Resources mobilize
Can kids india, Delhi, India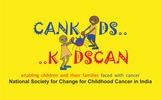 Job Description
CanKids…KidsCan
(www.cankidsindia.org) has an opening in their Resource Mobilization team.
This role would involve leading their individual giving, legacy, retail and digital crowdfunding, and exploring DIBs (Development Impact Bonds) and Social Impact investment funds.
The role would dynamically evolve depending on the individual and the key stress would be on converting prospects into donors and raise funds for the cause of childhood cancer in India.
The role would directly report to Director - Resource Mobilization (Gini Gulati).
To apply for this please write to her at ginigulati@cankidsidia.org